Last Updated: 08/12/2021
basICColor display 6 software
ground breaking screen calibration/profiling
New for 2020: basICColor display 6 is a ground up rewrite for 64 bit support, OSX Catalina and Big Sur Mac users can rejoice. The Windows version is ready too. As of 2021, the new basICColor display 6 Pro has also been added to the stable.
Please contact us for more info. Here's an expert review and intro to the standard software and here's an article on the pro version
basICColor display software provides a cost-effective and very significant upgrade for calibration and profiling system users who feel that they'd like more control over display accuracy and settings and, thus, better peace of mind. display software is the right solution for any screen user who would like more flexibility for calibration; the ability to fine-tune calibration target values can result in far better print matching than is provided by the often very simplistic software bundled with hardware.
basICColor display now includes excellent video industry calibration facilities as well as many upgraded and new features - such as virtually instant switching between calibrations/profiles without even opening the software.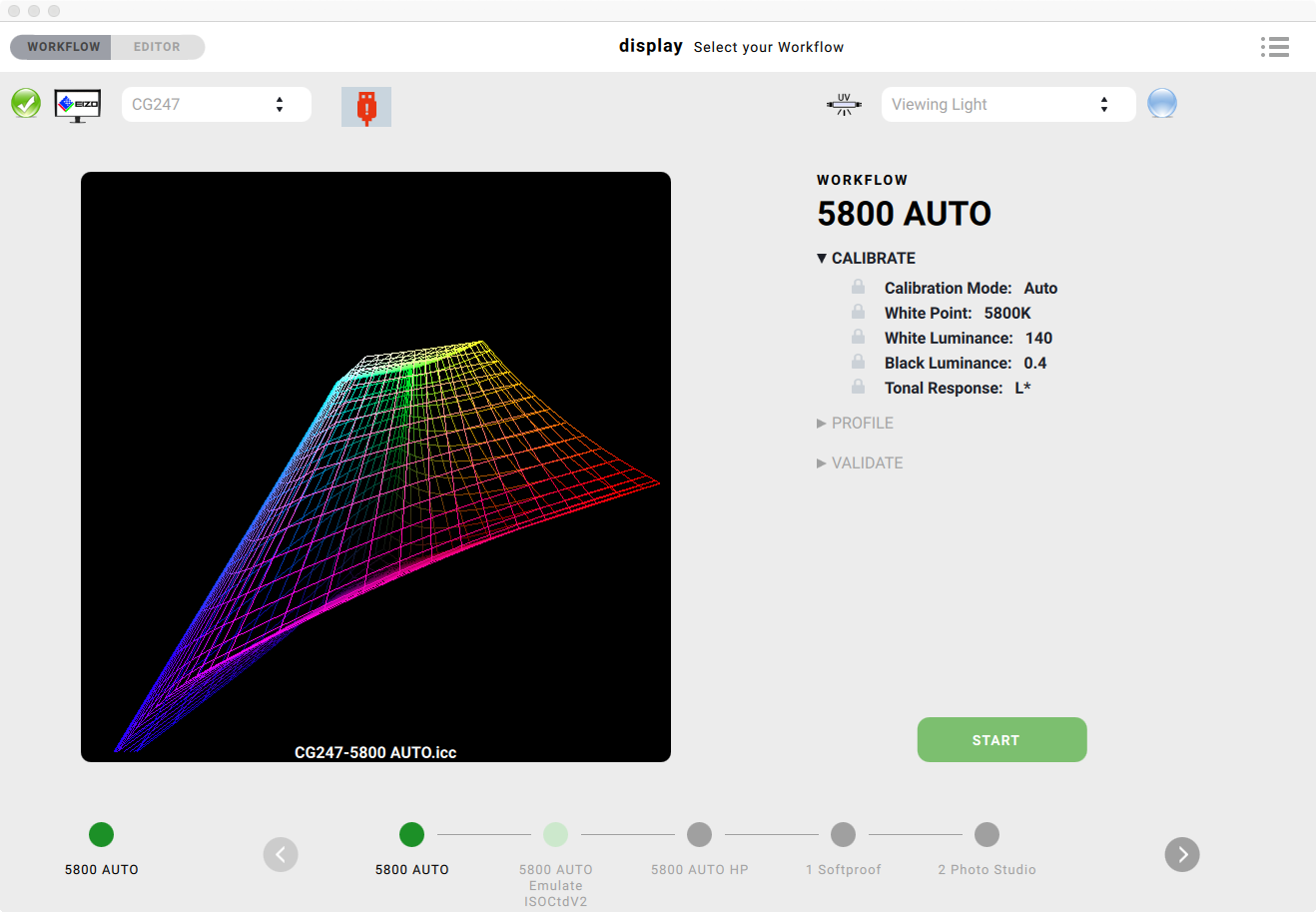 basICColor display is a software-only solution, which means that switching to basICColor display generally does not mean buying a new calibration sensor, all the good current sensors are supported as well as some older ones, although it's important to note that, unfortunately, some older sensors do not have 64-bit support from their manufacturers. Please click here to download the hardware support list.
Download fully functional software here - 14 day demo, simple online activation.
basICColor display software is licenced for use on a single machine, upgrades and further licences are at a lower price, please contact us for details of licencing
Fully automated Hardware Calibration and LUT creation for supported displays, e.g. Eizo, Quato, N.E.C.
Hardware Luminance (Brightness) Control for most Apple monitors.
basICColor display is used by NEC for their SpectraView displays.
With V6, basICColor display has been significantly improved, especially in ease of use and functionality. There are 8 pre-defined ready to use workflows, these provide software presets to cover a wide range of user circumstances - also, for critical users, custom calibration target settings for personalised display optimisation and fine-tuning can be configured and saved as additional "custom" workflows.
Because of its features and capabilities, basICColor display is by far the most professional software in its class. Many users report back about the software's ability to provide a "paper-like" appearance to the screen if desired.
You can learn a great deal about basICColor display's qualities and how it is set-up and used in this expert review.
Here's an informative article on the Pro version
basICColor display 6 software is licenced for use on a single machine at £69.00 (+ VAT for UK customers),
please test the demo before buying, once issued licence sales are final, no refunds
please contact us for details on licencing and how to purchase
---
on-site experience - sometimes there's a tough nut to crack
In my own work at the City of Westminster College Centre of Vocational Excellence, I was working with quite a mixed bag of screen hardware across the department. As well as their suite of up to date Apple Displays, I helped set up 2 fairly old iMacs, 2 PC's with Windows XP, 3 Older Macs with elderly Apple LCD's and 2 x basic CRT eMacs. So, quite a mix of screens. With the right calibration targets selected, the various screens were able to be extremely close in appearance, the results were very good and certainly usable. This capability can save a lot of money, you might find that the new display you've been thinking was a necessary expense might not be needed quite so soon.
---
a note on activation of the software
basICColor display software is licenced for one machine using an activation code for the downloaded software. Please be careful to ensure that it is suitable for your needs by downloading and testing the demo software before buying. Unfortunately, refunds cannot be given once the licence has been used to activate the software.
Please click here to email me for more info.
-->